Woman Lake Chain of Lakes
The entire Woman Lake Chain is on the following map. The Boy River begins over by Hackensack and flows into the chain at the west end of Child Lake. It exits the chain at the dam in Longville. From there, the Boy River flows through Little Boy Lake, Inguadona Lake, up into Boy Lake and finally into Boy Bay in Leech Lake.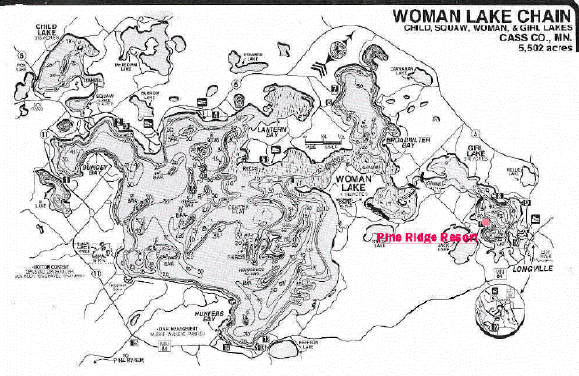 As a chain of lakes, the Woman Lake Chain offers a tremendous variety of fishing structures and shorelines for every fishing person.   With over 5500 acres of water directly accessible from your dock at Pine Ridge Resort, it would be hard to cover it all in a summer, much less a week or two.
The DNR lists the water clarity at 14′. Bottom type varies as much as the structure does. Weed growth patterns change from area to area as you move around the lake. Shorelines wander forming bays and points and creating fish holding structures on all parts of the lakes. Depths vary from the large 8′ flat on Woman Lake to the 85′ deep holes in Girl Lake.
Access to Woman Lake from Girl Lake is through a channel about 1/4 mile long and plenty wide and deep for any craft on these waters.  It is regularly used by pontoons and big, deep water boats. Also, from the west end of Woman Lake is a channel into Child Lake. A rocky opening into that channel leads to a little more caution when passing that way, but most fishing boats have little to no problems. And the rewards can be well worth the trip.
From Pine Ridge Resort, it is about a 15 minute boat ride to arrive at the main portion of Woman Lake.