Our Boats
The boats we use at Pine Ridge Resort are 14′ aluminum Crestliner's with four seats, oars and an anchor and will handle a 15 HP motor.  
Of course, our guests are welcome to bring their own outfits.  We provide docking space for your boat generally right in front of your cabin. 
There is no charge for docking your boat but space is limited so we need to know before you arrive how many boats you will be bringing.
The docks have electrical outlets for recharging batteries.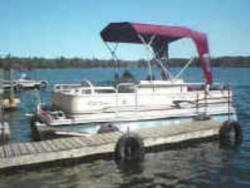 21′ Ercoa Sport Clipper Pontoon
Our pontoon is a 21′ Ercoa Sport Clipper.  It has a aerated live well,  anchor winch and a depth finder. For power, a  50 HP 4- stroke Mercury EFI Bigfoot outboard motor pushes you through the water very quietly and with tremendous fuel economy.
Pontoon Rental Rates
$15.00 per hour (2 hour minimum) 
$60.00 per half day
$110.00 per day  
$550.00 week
(Prices for registered guests include first tank of gas.)
2003 Crestliner Angler
The most popular rental is our 14′ Crestliner Angler fishing boat with a color Hummingbird depth finder and a wireless control for the bow mount trolling motor. Flat floor covered with non slip vinyl flooring, three cushioned pedestal seats, navigation lights, aerated live well, rod locker, depth finder and a trolling motor. To power the package, we installed a 30 HP Mercury 4-stroke with electric start. 
Crestliner Rental Rates
$95.00 Per Day (if available)
$475.00 Per Week
(Prices for registered guests include first tank of gas.)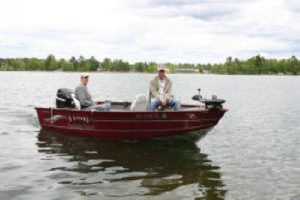 16′ Lund Rebel XL Tiller
This is a 16′ Lund Rebel XL Tiller with 50 HP Merc 4-stroke outboard. It  has 4 deluxe pedestal seats, live well with bait well, 55lb thrust MinnKota trolling motor with wireless control, depth finder, and vinyl, non-slip flooring. This boat will handle almost anything that Woman Lake can dish out. It's a sharp looking outfit and very comfortable to fish from. Call for more information or reservations.
Lund Rental Rates
$110 Per Day
$550 Per Week
(Prices for registered guests include first tank of gas.)
Boat Motors
We do not charge for the use of our boats for guests renting a cabin. However, if you want a motor to use with the boat, we do rent those. The motors we run are 15 HP Mercurys. We have two of them and they were new in 2002. They are two-cycle engines and very easy to start and to run.
Motors are reserved on a first come-first served basis.  Gas for the motors is mixed 50:1 and we have that for sale here at the resort.  The first tank of gas is included for our guests.
Motor Rental Rates
$35 Per Day
$175 Per Week
 (Prices for registered guests include first tank of gas.)
Boat Launching
Because of the ridge line that runs through the resort, there is no room for a launching facility here at the resort. Fortunately, there is an excellent public access just across the lake in Longville.
Once all your gear is unloaded from the boat upon your arrival at the resort, it is a quick trip into Longville to the launch. Back at the resort, Pine Ridge Resort has five docks in front of the cabins where your boat is moored during your stay. Trailers are brought back to the resort where we park them for the week.
One advantage to launching in town is that the launch is right next to the bait shop so you can pick up your bait and whatever tackle you managed to leave at home when you packed in such a hurry to get to the resort.
Water Hazards
A major concern of all boaters, and especially those of you bringing your own outfits to fish or play in, is the potential hazards in the lake that can damage your boat. 
The Cass County Sheriff's Patrol does an excellent job on the entire Woman Lake Chain of marking potential rocks, stumps and other items with large buoys  Hazards should not be a problem if you are paying proper attention.
The Docks
All of our docks are made of treated wood and are in excellent condition. 
As you can see, we use old tires as bumpers. They work very well for the most part but can leave marks on some boat surfaces.  If you are concerned, you should bring along bumpers to protect your boat. An old seat cushion hung on top of the tire works great.