Fishing on the Woman Lake Chain
The Woman Lake Chain is home to walleye, northern, large and small mouth bass,crappie, bluegill and muskie. It is a top rated fishing area and a popular destination for many Minnesotans and folks from all over the country. Girl Lake has an excellent population of northern, bass and bluegill.
Our season at Pine Ridge starts about the middle of May when the muddy channels around the lake warm enough for a few bugs to start hatching. That brings in the crappies and bluegills and it always seems to happen just about the time we're putting in docks. So, of course, we find time to go fishing after the docks are installed.
 
Spring time is pan fish time.  Ice off on Girl Lake is usually around the end of April. Ten days to two weeks later, the crappies are in the shallow, muddy channels and harbors looking for those early season bug hatches. 10″ to 14″ fish are not uncommon.
Bluegills can also be found with those early season crappies but the best gill fishing is towards the end of May and into early June. Warming water triggers weed growth and the bluegills get ready to spawn. For the best bluegill action, dust off that fly rod and buy a few panfish poppers (and a big fish basket).
Girl and Woman Lake offer excellent walleye fishing. Most Pine Ridge Resort anglers point their outfits towards Woman Lake when they want walleyes for dinner. The large flats surrounded by sharp drop-offs and the rocky bars of Woman Lake seem to yield more fish than the deep drop-offs in Girl Lake. But that is not to say there are no walleyes in Girl Lake. For those willing to work the deep structure, Girl Lake can offer some surprises. 
Fall walleye are the best. Anytime from mid-September on until it's too cold for you, the walleye fishing just keeps getting better. 
Of course, the other big fall fish is our perch.  Shortly after Labor Day, thousands of jumbo perch begin to school in the shallows.  We have several groups of guests who plan their vacations around the September perch fishing. 
And just so you don't forget, there are northern in these lakes also. Since 2003, Woman and Girl Lake have had a slot limit imposed on northern to increase the size of fish. Well, let me tell you, it's working.  Each year, we see bigger fish caught. 
The best fishing time of the year is late September into October. All species are bulking up for winter but the bass and walleyes seem to be the most aggressive during this time. Bluegills are also moving back into shallower water and schooling up after being scattered throughout the weed beds all summer long.
Spring time from just after ice out until mid to late June is the second best time of the year to be fishing. Fishing runs from hot to cold as the fish enter their spawning runs and the different bug hatches appear. Walleyes spawn early in the channel leading to Child Lake and then gradually spread out over the rest of the lake. Bass can be tight lipped for a couple of weeks after they spawn.
Summer time is always the most frustrating for anglers. You know the fish are there and you know they are feeding heavily. But why can't you catch them?  Mostly because, during the day, fish go deep to avoid bright sun and busy surface activities and also to look for cooler water. Finding the right water temperatures and depths and fishing during the early morning and late evening hours are the keys to productive summer time fishing.
In a hurry to start fishing when you arrive?
This can help. Just below is a direct link to the Minnesota DNR's website where you can buy your Minnesota Fishing license on-line.  There is a list of resident and non-resident licenses and the costs. For non-residents, there are several different packages including a family package and different time periods.
---
Guide service is available on the Woman Lake Chain.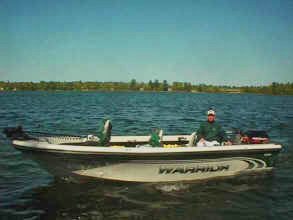 Dan Krone has lived along the shores of Woman Lake for 20 years. His business began with the taxidermy and now is progressing into guiding.  Dan runs an 18′ Warrior boat and provides everything you need to catch fish.
You can reach Dan at 1-218-363-2767
Glen Irwin, son Travis and nephew Cody fished with Dan on June 2, 2002, and brought in this nice stringer of walleye and northern.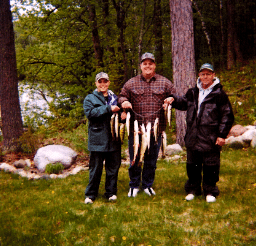 ---