So you've seen all the pictures you want to see and have decided that this is the place for you.  Great.  We are looking forward to having you here.  Now we have to work out the details.
You can either submit a reservation request over the Internet or call us directly.
Fill out the form completely, being sure we get your name, address and phone correct and the cabin and dates you would like to reserve.  There are also questions about boats that will help us have everything you need ready for you when you arrive.  You will want to read the fine print about our cancellation policy.  Below the fine print are several questions about how you found our web site that we would like you to fill out to help us with our marketing.
When we receive your request, we will call you as soon as we can to confirm all the details and to work out the deposit.  Deposits can be either by check or credit card.  We accept Visa and Master Card.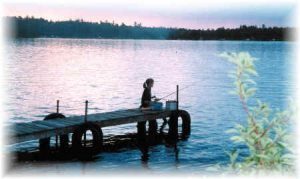 To submit a reservation request By Phone, call us at 1-800-972-0147.
We'll answer all your questions about the resort and work out the details of your reservation.  Again, you can confirm the reservation with either a check or use a credit card for your deposit.
Check or Credit Card for your deposit?
Either way works for us.  Checks must be received within ten (10) days to hold your reservation.  If you are sending us a check, we ask that you please click here and print out the form to return, completely filled out, with your deposit check. That will help to make sure we get all the pertinent details correct.
More Questions before Reserving?
On the other hand, if you still have some questions before making your reservation or are uncomfortable using the Internet to place your reservation, please feel free to call us at the number below and we'll be happy to answer them for you.
Thank you for your reservation.  We are looking forward to meeting you.
Deposits
Weekly reservations require a $350.00 deposit for the two bedroom cabins and a $600.00 deposit for the three bedroom cabins.  Mini-week reservations for the two bedroom cabins require a $200.00 deposit.  Daily reservations require a $100.00 deposit ($200.00 for "The Sarajac" or "Colonial").
Deposits can be made either with a credit card (we accept Visa and Master Card) or by sending a check. It is very important that you do not e-mail your credit card numbers to us. Our site is not secure and someone could pick out your credit card numbers to use for their own trips.  Let's avoid that. So call us if you want to use a credit card to make your deposit and then follow up by submitting one of the above forms.